Indulge In A Flight Of Wonder
The Best Hot Air Balloon Rides In Southern California!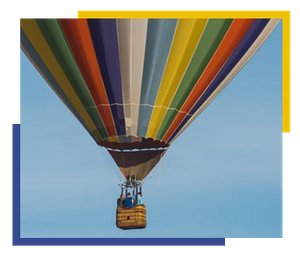 *Gift certificate is valid for use on weekdays; additional fee for use on holidays
From lift-off to landing, our Sunrise hot air balloon fllights provide an awe-inspiring bucket-list experience that is simply unparalleled. Guided by our highly skilled and adept pilots, every adventure is enhanced by gorgeous views of the landscapes of Southern California's Temecula wine country.
Boasting an untarnished, perfect safety record, our crews provide an unforgettable experience for riders of all ages. Delivering the perfect blend of both adrenaline-fueled excitement and restorative peace of mind, hot air balloon rides both surprise and delight even the most experienced riders.
Perfect for that adrenaline junkie in your life, or as an invitation for visiting guests to experience a birds-eye view of the region, a gift of a hot air flight is sure to be appreciated and remembered for a lifetime. At Sunrise Balloons, we offer gift certificates for our Temecula hot air balloon tours in a variety of denominations, allowing you to choose a private or group flight that works for the recipient. Great for newlyweds, family members, friends, and even corporate clients, the gift of flight is unlike any present they've received before.
Allow your loved one to take part in an event that is literally designed to change their point of view — a piloted hot air balloon ride by Sunrise Balloons. Wanna know why we're a "Best of Groupon" entertainment company? Find out by scheduling your next flight with us.
Gift Ticket Details
Our beautifully decorated e-ticket will be sent via email and makes for a great gift giving lasting memories!
Gift basket presentations are available at an additional fee of $150.00 and include shipping, a bottle of champagne, souvenir flutes and the beautifully decorated gift ticket of your choice, wrapped in a clear, sparkling gift wrap that will wow the recipient. Please call for your custom gift basket and ticket order at 800-548-9912, Monday-Friday, 9:30 am – 5:30 pm or purchase the tickets below
Gift Ticket Terms & Conditions
All Gift tickets are non-refundable and have no expiration on the amount paid. If it is a "promotional gift ticket" (a ticket offered at a discounted price from the normal retail value) the promotional value expires one year from purchase date, however, the amount paid never expires. Ballooning is a weather-dependent activity; inclement weather is not a valid reason for a refund (ticket remains valid for a reschedule). There is an additional fee for weights exceeding 220lbs per person and additional space will be reserved per factory weight limits per square foot of the hot air balloon load capacity. Additional fee for holiday weekends & festivals on promotional gift tickets. Gratuity is not included with any of the gift tickets.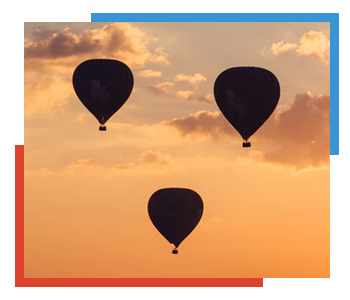 BEST VALUE GIFT TICKETS AVAILABLE NOW
Available Now for $174 pp
Best Value Promotional Tickets Include:
45-60 minute sunrise balloon flight over Temecula Wine Country
Check-in outside of Julie's Dream Winery
Fun host that photographs your outing (free on Facebook, see daily flight photos at: www.facebook.com/sunriseballoon
Champagne served aloft
Limousine or limo bus returns you to the winery
Additional fee for weights over 220lbs per person; weights over 280lbs require private flight
Additional fee for holiday and festival weekends
No expiration, non-refundable, transferable, weather dependent activity; inclement weather is not a valid reason for refund
gratuity not included