Film & TV Flights
Let Us Help You Capture Beautiful Aerial Shots.
Shoot Beautiful Footage Of The Temecula Valley Today
As an artist or a producer in the film and television industry, you are likely always looking for new and exciting content creation opportunities. At Sunrise Balloons, we think that a Temecula hot air balloon tour over Southern California's wine country is the perfect creative opportunity to gather photos and footage for your next project.
So whether you are looking for scenic aerial shots or some B-roll footage to supplement an existing project, we strongly suggest that you consider booking a flight with us. Get in touch with our team today to learn more about what we can do to accommodate your project.
Our Film & TV Flights Include:
40-60 minutes of flight time (may be negotiable)
Snacks and beverages
Free parking
Repeat customer pricing
Specially tailored project accommodations (contact us to learn more)
Beautiful views of the Temecula Valley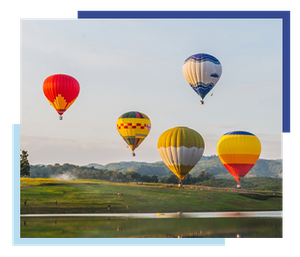 Film & TV Since 1975 we have been providing hot air balloon services and equipment for still, motion picture and television presentations with excellent reviews!
At Sunrise Balloons, it is our goal to give people access to the wonderful experience of flight — and we believe that whether you are a couple looking for a romantic trip or a film and TV producer looking for content creation opportunities, you deserve access to the sky.
Types Of Shots Made Available By Our Flights:
Oblique
Near vertical
Panorama
And more!
If you are looking to shoot film or take pictures from the sky for your next project, we urge you to get in touch with us and to ask about our Temecula hot air balloon tours, as well as what accommodations that you might need for your project. We look forward to hearing from you!